Andrew's First Competition - July 24, 1999
On July 24th, 1999, I entered my first piping competition in at the Monterey Highland Games at the Monterey County Fairgrounds. I competed at 9:42 in the Grade IV Slow March category then again officially at 10:50 (later actually) in the Grade IV Piobaireachd (pronounced "Pee-brock") category.
My wife Kristen's folks drove up from San Diego to visit and to see the competition. We were all down to Monterey, including my children Nicholas and Charlotte, by about 9:15 a.m., at least 15 minutes later than I wanted, but we made it.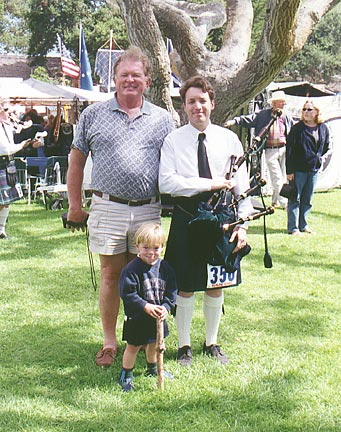 My father-in-law Ron Foster, myself, and my son Nicholas (2 1/2 years old), who in this photo reminds me of a dwarf caber-tosser!
My instructor, Jay Salter had a last minute funeral gig and couldn't make it. But one of his former students, Channing, a grade III piper who now lives in Oregon, helped us with tuning. Nice guy.
Surprisingly, my first performance, in the slow march "Mist Covered Mountains," was better than the piobaireachd. But that wasn't entirely of my doing. My chanter reed decided to start intermittently dying about 48 hours before the competition and I was hoping it would hold out as I didn't have a back-up reed broken in...it didn't. I played through, but "Duncan MacRae of Kintail's Lament" (piobaireachd) was a sad event. When on the "F" note it would repeatedly go very flat (which it also did a few times in the slow march). To cap things off, my lips dried out and I was blowing air around the blow pipe. Piper's nightmare.
It was definitely a learning experience. Expected, I guess, for the first competition.
On a side note, a reporter from the Monterey Herald liked the "curve" in my tune that he hadn't heard before—I figured out later he was talking about a low G-graced low A, with the low G gracing held longer than normal—and interviewed me for his paper on a whim. So I may end up in print. [I did.]
I'll be competing again in the first part of October at the Loch Lomond Highland Games near Felton/Boulder Creek/etc., which is closer to home.


Here's what was on my Slow March Adjudication Sheet:
Judge: Gladden, Contest Site: Monterey, Date: 7/24/99, Grade: IV, Event: 30 Slow March
Name of Competitor: Andrew Lenz #350
Tone and Tuning:
-Flat
-Double toning F
-Drones ok
Execution:
As noted --->
Expression:
As noted --->
Tempos:
Good
Breaks:
W/1
Is tune selection appropriate:
Yes
<from the comment area:>
1) - missed a beat entering the repeat of this part
- some timing coming in late
- doublings could be closed down a bit to give them speed
2) - ditto here - watch that you stay on the beat
- off the tune momentarily here.
Overall, a nice show. The Chanter reed is perhaps spent as it is double-toning on "F" (i.e., sometimes in, sometimes extremely flat).
Watch your timing here. This would be a good area to spend some time on. nice show.
Total points: 49
Judge's Signature: <Helen Gladden>


Here's what was on my Piobaireachd Adjudication Sheet:
Judge: Troy, Contest Site: Monterey, Date: 7/24/99, Grade: IV, Event: 33 Piob. Ground
Tune: Duncan MacRae, Name of Competitor: Andrew Lenz
<from the comment area, the only critiquing on the sheet>
pipe ok at Start
watch Themal E' passing 'D'
Choke Qw'e repeat. Watch Blowing pumping to pulse of time
collapsing 'F' line 3.
watch flow line 3.
pipe out at end.
Total points: <Blank>
Judge's Signature: <James Troy>


What "Qw'e" and "Themal" means I don't know. Maybe Jay can help me decipher it. Ah, well. Onward and upward! [Later comment: "themal" refers to a note that is not gracing another note, i.e. melody note or "theme" note.]