Andrew's Tips: Bagpipe Bag Cover Sewing Pattern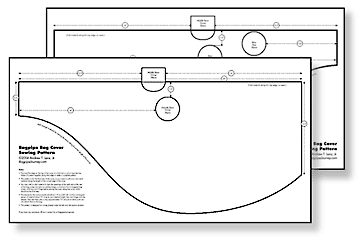 Occasionally people would like to sew their own bagpipe bag cover for a variety of reasons. I've created a sewing pattern (for a right-handed piper) from which you may work if you are feeling crafty. The pattern is pretty large since it's actual size—a cover for a set of bagpipes is over two feet long—unless you have a huge printer, you will need to tile/splice your printer output together. If you wish, you may send the PDF file to a commercial copy shop for digital output.
The PDF file:
Bagpipe Bag Cover Sewing Pattern (36K)
Don't have the current free Acrobat (PDF) reader?



If you decide you aren't ready to put in the time and effort to make your own bag, you can visit www.BagpipeCovers.com, they are one of the high quality bag cover makers out there. (I own one.)
If you have comments or suggestions, please contact me.
This page last updated Sunday, March 14, 2010.
Page first created in January 23, 2004.