Welcome to Bagpipe Journey!
This site includes unique reference material for pipers of all levels, including an exhaustive drone reed identification page. When I first started bagpiping, there wasn't much help out on the web for pipers, only a handful of excellent bagpipe sites, but not much advice nor many tips for beginners and some really basic necessary piping information was nowhere to be found. I decided in December of 1998 to start sharing what I had learned—some the easy way, some the hard way—with other bagpipers on their own journey of discovery. There's always more to know about the Great Highland Bagpipe.
Little did I know that this site would grow to the point of garnering Awards & Testimonals from some of the most famous names in bagpiping . . . and beyond!
Here you will find answers to many of the questions asked by beginning bagpipers (as well as those asked by more advanced pipers), primers to different aspects of the instrument along with "how to" articles and even historical reference information.


My piping background:
How It All Began
I began my adventure as bagpiper in December of 1997, at the age of 30. My grandfather, Warren Penniman, played the pipes—along with many other instuments, he was truly a man of music, he played various horns in the Watsonville Band

for over 40 years—and my grandmother offered to give me his set if I took them up. My wife, Kristen, being a big fan of all things Scottish, prodded me to take it up, although sometimes she now regrets it!
My Instruction
My instructor is Jay Salter, Pipe Major of Santa Cruz Pipes & Drums

. For the first six months that I was taking his class along with four other students, we were doing solely practice chanter fingering work. We were learning gracenotes, doublings, the D-throw, the Dare (pronouced "Dar-A"), among other things. Here's a bit of a tune from that time (MP3, about 90K, you might need to save it as a file first to listen)—the first line of "Gravelwalk."
| | |
| --- | --- |
| | My original R.G.Hardie practice chanter (African Blackwood). I've broken the sole of the chanter a number of times. Thank goodness for super glue. |
After many months learning only on the practice chanter, I first began to wrestle the Scottish Octopus a.k.a. "The Big Pipes" a.k.a. The Great Highland Bagpipe (GHB) in the summer of 1998. I competed for the first time just about a year later—elsewhere on this site is my competition journal. In the Spring of 2000, the class was dispanded in favor of individual private lessons, since some of us had been invited to join Jay's band.
| | |
| --- | --- |
| | My Tru-Tone long practice chanter (plastic). No sole to break! |
Here's a slightly more recent practice chanter sound snippet, recorded back in February 2001, the second part of "A.A. Cameron" a strathspey tune. (MP3, about 180K, you might need to save it as a file first to listen)
Want a closer look?
Andrew's Set of Bagpipes.

My grandfather's set of Great Highland Bagpipes. Feel free to read how he "earned" his set of pipes.

Somehow these were described as rare Uilleann pipes in a newspaper article announcing a local event at which my grandfather was to play.

The bag was covered with what I originally thought was the Clan Keith tartan, but in fact, it was the Black Watch pattern. Being that my grandfather's great-grandmother (his dad's dad's mom) was Cynthia Keith—for whom my mother is named—I am of Clan Keith decent. Not that I consider myself all that Scottish, I'm one thirty-second by blood—versus a full quarter of each of German, Irish, and Italian. Typical American mutt!

The hide bag was somewhat stiff after sitting idle for 20 years. Surprisingly, after some seasoning, it survived my playing for about three years before a new bag was tied-in in May of 2001.
If you are curious, you can check out a very outdated listing of my repertoire.
| | |
| --- | --- |
| | Here I am piping at my sister-in-law's wedding in the Summer of 1999. It went well, the guests were pleased, but I don't advocate playing for special events until you have some competition experience, which I didn't have at the time. (It was a rented jacket, by the way—though I own a couple piping jackets now.) Perhaps you can see from my kilt why the Keith tartan is sometimes confused with the Black Watch tartan. |

The Band
I joined Santa Cruz Pipes & Drums

and attended my first practice on April 17, 2000. After a couple months of practices, I was on "injured reserve," so to speak, for a while with tendinitis in my wrists (combination of work and pipes, I suspect), but returned to start practicing again with the band on October 2, 2000. The tendinitis rarely bothers me unless I'm really overdoing it, such as intensely practicing on the big pipes twice per day, everyday, which is not very often. (More of an issue is the fact that I broke my left ring finger—also known as the "E" finger—in January 2004 and it can bother me if I'm doing repeated complex embellishments such as a crunluath.)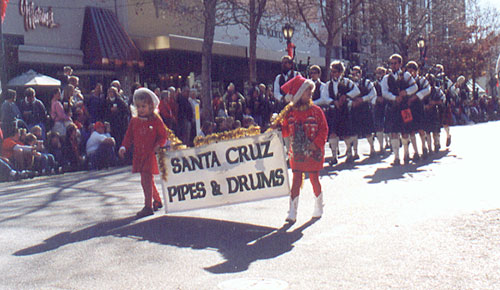 Santa Cruz Pipes & Drums makes its way down Pacific Avenue for the Christmas parade in downtown Santa Cruz in December of 2002. I'm the blob in the center of second row.
I had my first performance with the band—a parade—on December 31, 2000 at "First Night" in downtown Santa Cruz, California. We made it onto the TV news. My second performance was also a parade, Saturday, May 26, 2001 Memorial Day weekend at the "Felton Remembers" event. Third performance was on stage at the Santa Cruz "We Carnival," Saturday, June 2, 2001. Fourth performance was in the "World's Shortest Parade" on July 4, 2001 in Aptos. And on and on and on...
And on January 17, 2007, when the pipe major couldn't make it, he called me and put me in charge to run the band practice—only practice chanter work, but still neat experience.
The Pipe Band Association
In June 2005, I assumed the role of webmaster for the Western United States Pipe Band Association. I didn't stay within my job description, offering advice and input on many topics. By the time I stepped down from administrating WUSPBA in October 2013, I was holding the position of Executive Secretary answering only to the President and Vice-President of the association. In February 2011, I was invited to the ANAPBA Summit where all the North American pipe band associations gather to compare competition rules and share ideas. It was a great opportunity to meet the movers and shakers in the piping & drumming scene.
This site was voted
a Viewer's Choice
Web Site of the Year
for 2001-2002
sponsored by
The Bagpipe Web Directory

This site is dedicated to my nephew Peter Lenz
(May 30, 1997 - August 29, 2010)

Race in peace, Peter,
we'll never forget you.