BagpipeJourney.com Awards & Testimonials


One of the rewarding events is getting acknowledged for my work that has gone into this site.


Awards
Bob Dunsire's Bagpipe Web Directory (November 2, 2001):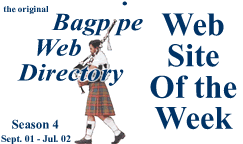 Bob Dunsire's Bagpipe Web Directory (June 2002):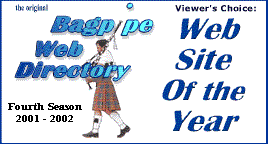 Annsborough Pipe Band, of Northern Ireland (August 2004):


Book Acknowledgments/Credits
Joann Ross - Out of the Mist
(Fall 2003)


I received an acknowledgment in this romance novel from Mrs. Ross. She was very gracious. The unexpected kick was reading and finding a reference in the book to a character's piping instructor moving "to Santa Cruz"—my home city!

Published by Pocket Books.
Kerry Sheridan - Bagpipe Brothers
(July 2004)


I finally read this one in January/February 2005 and I have a credit (along with a bunch of other people) in the front of the book. Ms. Sheridan's book tells the story of the pipe band of the New York City Fire Department in the wake of the "9-11" tradgedy. It's received some very good reviews, which are accurate in my humble opinion. It really gives you a sense of what it was like.

In September 2005, Ms. Sheridan contacted me for help correcting bagpiping related errors for the paperback edition. I provided a few dozen suggestions—I don't know which were integrated. I haven't seen the second release, but I've been told that a few inaccuracies still exist.

Published by Rutgers University Press.
AARP Magazine
(February 2008)


While I didn't get a credit, in February 2008 I was contacted by a research editor at AARP Magazine to consult on some bagpiper references in an article published in the May-June 2008 issue, which later turned out to be very minor.
Other Recognitions
In November 2003, I was invited to join the moderator team at the internationally respected BobDunsire.com bagpiping forums—a team which includes gold medalist Jim McGillivray, composer Neil Dickie, EUSPBA judge Chris Hamilton, and other well known piping figures. While it takes an incredible amount of work and dedication to do well, I feel privileged to be instrumental in keeping this online community the best of its kind in the world.
A Few Testimonials
"I have used your site for reference a number of times, especially for getting the kids to learn about the different drone reeds to prepare for Institute of Piping tests."
—Bruce Gandy, Gold Medalist at Inverness in 2002, Piping Instructor at the College of Piping - Prince Edward Island, Canada, 1997-2000


"Adrian Melvin called the attention of myself, my students, and my band members to your site. It is outstanding."
— Donald F. Lindsay, PM of Oran Mor Pipe Band, Grade I.
(Adrian Melvin is the former Pipe Sergeant of the Grade I L.A. Scots.)


"Lots of pipers in their formative years have wished they could find lots of information without having to go to lots of different places. Andrew Lenz has begun to answer this wish with 'Andrew Lenz's Bagpipe Journey.' A labour of love, the site contains scads of information on a myriad of piping topics, from 'How to Season a Pipe Bag' to 'Who was Hammie Workman?' There are many ways to do many things in piping, and Andrew has done his level best to provide most of them. This is a great place for aspiring pipers to get grounded."
— Jim McGillivray, Gold Medalist at Inverness in 1985, Gold Medalist at the Argyllshire Gathering in 1991, Piping Instructor at the St. Andrew's College, Canada. (piping.on.ca

)


"Andrew Lenz's Bagpipe Journey site provides a great service for pipers, and its people like him, who volunteer their time and energy for the good of piping, that really make the piping world a better place."
— Andrew Berthoff, Editor, Piper & Drummer magazine and Piper & Drummer Online

"A visit is an absolute must for anyone even vaguely interested in piping/pipe bands."
— PM John Spoore, R.V.M., former Personal Piper to Her Majesty Queen Elizabeth The Queen Mother.


"I often visit your website and I find it to be a most complete source of information and pertinent piping material. What you have put together is very useful and should benefit many people."
— Major Archie Cairns, MMM, CD, renowned Pipe Major in the Canadian Forces, composer, international adjudicator, teacher, author of The "How To" Piobaireachd Manual and other books. (archiecairnsmusic.com

)


"BagpipeJourney.com is an entertaining and informative web site. I believe it to be an excellent resource, especially for students beginning their own journey into the world of piping. Thanks Andrew for providing the piping community with such a generous and personal contribution!"
— Mark Saul, Professional piper, renowned composer, former member of the Victoria Police Pipe Band (Grade I) (marksaul.tv

).


"It is a phenomenal bagpipe resource you run."
— Barnaby Brown, Internationally recognized piper, composer, and piobaireachd scholar, pioneer of historically-informed performance style. (Siubhal.com

)


"Andrew Lenz's bagpipe journey is a resource that can be used by beginners to the very best professionals. His journey has now lasted 10 years, I hope to continue following it and continue to learn from it for the next 50 years!"
— Stuart Cassells, Member of the 78th Fraser Highlanders

(Grade I) and the Red Hot Chilli Pipers

, occasional presenter on BBC Radio's Pipeline.


"We see your website as a really valuable tool for pipers all over the world and I'm sure, like myself, pipers out there use it regularly as a reference. You've done a great job over the years and deserve any accolade that you're given for your work."
— PM Ian Lyons, PM of the Clayton RSL Pipe Band (Grade II), Member of The 78th Fraser Highlanders Pipe Band (Grade I). Co-owner of Lyons Bagpipes & Highland Supplies

.


"Excellent site, Bagpipe Journey. You could eliminate several sections on the [BobDunsire.com] Forum by directing pipers to the Journey."
— Mark Lee, Synthetic Drone Reed Pioneer, creator of Rocket Drone Reeds.


"Your site is a wealth of knowledge and a credit to you. I have referred to your drone reeds page many times, it is one of the most valuable resources we have in that sphere. Your site is a great resource for pipers of any standard."
— PM Brett Tidswell, Principal of Piping of the Australian Pipe Band College, PM of the City of Adelaide Pipe Band (Grade I), operates SchoolOfPiping.com.


"Our mastery rather than recreational program of instruction demands greater precision and a deeper understanding of all aspects of training, without being too dry or an ongoing source of headaches. Andrew's most generous site is a great credit to him, and is of enormous value in keeping our acetaminophen sales down to a dull roar! BRAVO!!"
— PM Roger W. Ross, piper and instructor for half a century.


"Thank you again for your good work...it really is a generous and valuable asset for the piping world."
— Richmond Johnston, instructor and administrator for the Balmoral School of Piping & Drumming.


"I find your website to contain the best comprehensive, informative, helpful references on the practicalities of the Highland Bagpipe and associated subjects that I have seen and ever likely to see. The presentation is well laid out with ample explanatory text and first class photographic illustrations. Many times when I have reasonable questions about the Highland bagpipe I often backup my answer by checking your site and directing the questioner to your site for more detailed information. Rather than mention some of the many helpful sections, I implore pipers and those interested in piping to explore your site and gain enlightenment on the wide-ranging aspects. The other day I even saw directions on how to clean/wash/comb etc., a hair sporran. Now where could you expect to find that!! The directions were very good and step-by-step much as we used to do taking care of pipers' hair sporrans in my old regiment. If you want to know the parts of the highland bagpipe, have problems with certain reeds and their adjustments, wanting to purchase a set of bagpipes, want to join a band, and much, much, more - this is the place for you.
Best wishes and thank you for the great job are doing for piping."
— PM William (Robbie) Robertson, former PM of the 1st Battalion Royal Scots, Hamilton Caledonian Society's Pipe Band (Grade I) and Auckland and District Pipe Band (Grade I); winner New Zealand Gold Medal; author of Bill's Interactive Bagpipe Tutor.
I appreciate the honors!