Andrew's Competition #27
June 19, 2010
Loch Lomond Highland Games/Santa Cruz Scottish Renaissance Festival Competition
Saturday, February 20, 2010
I received a follow-up reply to my inquiry in December to the Loch Lomond Celtic Society (LLCS) about whether the Loch Lomond Highland Games would return in 2010 after a one year hiatus in 2009 and if so, whether they were interested in a solo piping competition again. The answer was yes, in a mutated form combined with the 5-year-old Santa Cruz Scottish Renaissance Festival (SCSRF). The finances were slim to none, so I have approached the WUSPBA Northern Branch to see if they can help put on the contest and jump-start re-establishing this event.
Tuesday, March 23, 2010
I got word today from Liz Tubbs, president of the Northern Branch that, after some deliberation, they will help with the contest. Some details still need to be worked out but the ball is rolling!
Some unknown point in Spring 2010.
While my hands are still not great, I'm starting to think about competing again since there will be an event so close and my hands have improved some. My hands won't be able to handle the rigors of practice required for a full slate of events, but maybe I'll be able to handle a short piobaireachd. The shortest piobaireachd that I've ever been taught is Duncan Macae of Kintail's Lament, weighing in at about 6 minutes. It's in the Kilberry Book, though the Thumb Variation show on the score is typically skipped. For instance, in the Donald MacLeod Piobaireachd Tutorial series of CDs, Donald MacLeod specifically mentions he never plays that variation, which was also how I was taught. This is a tune that I knew in its entirety a decade ago, but haven't played since. It's also the tune I used for my very first competition in 1999. We'll see how it goes.



Saturday, June 12, 2010.
I had a brief lesson with Jay around 4:30 this afternoon. We played the piobaireachd through together then I played it by myself. It was pretty solid with the exception of a couple of things. The C grips—my D grace note was too short and also the low G wasn't being held long enough. Also, the D in my cadences were a bit short. (E, D grace note to B, followed by low-G grace note to low-A.) One week until the competition.
Sunday, June 13, 2010.
My hands are aching today. I'm not sure if it's from the piping or from the boxes I moved at work yesterday; they were somewhat heavy boxes and I was lifting them by slipping my fingers under the two plastic bundling straps and heaving. A recipe for trouble regardless.
Tuesday, June 15, 2010.
I played through my piobaireachd tonight.
Wednesday, June 16, 2010.
I'm heading out of town on a business trip and won't be back until Friday night. Kind of unfortunate timing as I could likely use the time to continue to build stamina since the competition is this weekend. On the other hand, my hands/wrists could use the break from piping and computer activities.
Thursday, June 17, 2010.
The hotel has WiFi in lobby and with the iPod Touch I got for Christmas, I can check e-mail and still do my moderating duties at the BobDunsire.com forums. The wonders of modern technology!
Friday, June 18, 2010.
I got back tonight about 7:00 p.m. I dug two folding card tables out of the garage and put them near the front door so I wouldn't forget them. I had told the SCSRF organizer that I'd bring tables and chairs for the piping judges . . . rather important! I've looked all over and can't find my Flip video camera. I'm hoping it'll turn up so I can video record my event. At least the miniature microphone that I ordered for my iPod Touch showed up, so I can at least get an audio recording.
GAMES DAY
Saturday, June 19.
I woke up at about 6:30 but went back to sleep to wait for my alarm at 7:30. I was pretty tired from the business trip—they kept us going!—so I slept like a rock for a change. When I removed my vest from the closet, I noticed that the middle of the five silver buttons was missing! Drat! I decided to take it anyway and decide later to wear it or not. I remembered that I should bring a banana to eat, but no dice, no bananas. Drat.
I loaded two card tables and four folding chairs into the back of my car. I left the house around 8:45. Since the competition wasn't to start until 10:10 and the fairgrounds in Watsonville are only a 20 minute trip, I very briefly stopped by my office at work to see if I had left the Flip camera on my desk or not. I'd e-mailed a friend of mine, Jamie Tanner, to see if he might be able to video my performance since he'd be there today. He said his son had one and that they'd bring it.
While on the road, I realized that the earplugs that I usually pipe with I'd left in my jacket. Drat.
I arrived at the Santa Cruz County Fairgrounds and parked as instructed via e-mail in the Participants' parking area. I found my way to the Information tent and checked in. The woman gave me my entry wrist band. I asked where the piping was going to be and she told me behind the green building. I headed that direction and found Liz Tubbs, her husband Bill, Donna Willy (Northern Branch Secretary) and her husband John. The Festival had provided two tables, so Bill and John helped me move one table and three chairs to the piping area.
One of my instructor's students and member of Santa Cruz Pipes & Drums, Fred Kiffer arrived with his mother. I took them to the Information tent then to the piping area. Fred was accepted to the University of California Riverside and will be joining their pipe band in the fall when he starts classes there.
I went back out to the parking lot and got to warming up my pipes a little bit and see about tuning the chanter. I pulled out my iPod Touch to see if the sound level was going to work . . . uh, oh. Forgot the microphone. Drat!
After warming up the pipes a bit and setting the chanter, I headed back to listen to Fred and the other pipers. I was able to catch Fred's Grade IV 6/8 march (he played pretty well) but he decided to withdraw from the piobaireachd as he felt he wasn't truly ready for it. (One of the Grade III piper later withdrew from her piobaireachd event as well.)
Fred, his mom, and I went to go see the the Festival. We stopped to see a magic show by "Merlin" and stood in the back. I noticed that my friend Jamie Tanner and his family were sitting on the straw bales catching the show. Merlin later came out and picked Fred's mom to join him onstage for part of his performance, which Fred caught on video.
The morning events were running late and by the time they ended, the Grade III piobaireachd starting at 12:40 was only 15 minutes away.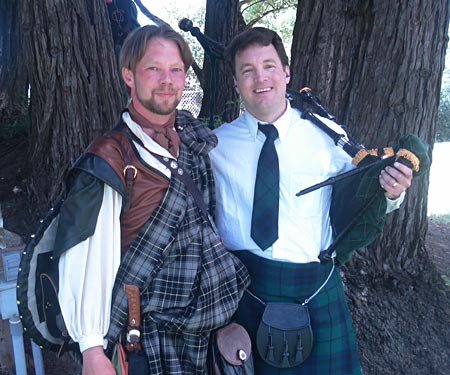 Jamie Tanner and me a few minutes prior to my Piobaireachd event. Jamie stepped down last year as a key moderator of the "X Marks the Scot" online forum.
asdf.

My Piobaireachd Adjudication Sheet:

Games: Loch Lomond, Date: 6/19/10, Event: Piob
Competitor: Andrew Lenz, WUSPBA Number: [blank], Grade:III,
Tune(s): Duncan Macrae of Kintail's Lament

Comments:
-Nice bass:tenor mix -drones not locked though
-C grip, make sure we're hearing
a solid D gracenote on the Low G.
-Nice F-edre's!
-Watch "pulsing" of blowing on longer notes
try to maintina a consistent pressure
- Make sure, even though it's not a metronome,
you establish a downbeat to start each phrase.
Too bad about the breakdown. Next time!
Competitor's Performance Level:
N/A
Place Awarded: [/]
Judge's Signature: <Colin Berta>



asdf